You can now buy the whole "My Eternal Family Songbook" Quickpages from
Scrappin Digi Kreations
and download it all in one download!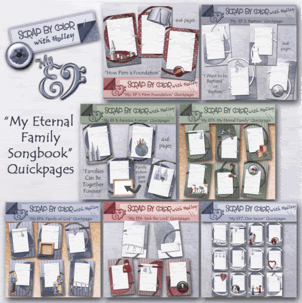 This is a lyric book for the songs the LDS Primary children are learning in 2009. The theme is "My Eternal Family." Personally, I use the songbook for Family Home Evening, betime, or whenever the kids want! The following description is also included in the download:
These quickpages are 4x6 inches. All you have to do is add the lyrics! For several of the months the primary chorister picks between two songs or picks any song within a certain topic. So ask your primary what songs they are planning on working on first!

Just use about any graphics program, open up one of the quickpages (they are jpeg files) and then use the text tool to add the lyrics of the songs on top of the quickpage.

In each folder there is directions for each song and internet links to the lyrics.

The seven parts of the kit are not in order by month so here is a guide:
Jan - My EF4
Feb - My EF1
Mar - My EF5
Apr - My EF7
May - My EF2
Jun - My EF6
Jul - My EF7
Aug - My EF3

~
I posted this example before but here it is again. This is what the pages will look like after you add your lyrics:
And here is a little freebie for you all. It is a CD cover quickpage. Just add the list of songs your primary is doing and print it out to fit your CD cover. I made it so you could just print it off on your printer and it wouldn't take up too much ink.
Download
HERE